28th August 2019, Dr Chee L Khoo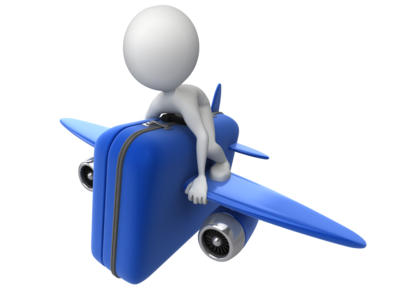 Now, most of us travel overseas a lot. We have already seen how to get lounge access in a previous article. It would be nice if you could also use your frequent flyer points during peak season and fly for free as well. What if you don't have enough points? Well, what if I can get you more points for free so that you can use those points to fly for free. All a dream, eh? Let me show you how.
Step 1 – How to get lots of points quickly
Do you realise that the credit card companies take your loyalty for granted. You pay your annual card fee but yet they reward new customers with bonus points even though you have been making them money, spending your credit card year after year. How can that be fair? Most banks and airlines offer new customers huge bonus points but zilch to existing customers. What can you do? What should you do? Well, change your credit card every year!
This is some of what is on offer for new customers:
Qantas frequent flyer points
Qantas Premier Titanium Mastercard
Apply by October 31 2019 and spend $5,000 within 90 days of approval to earn 150,000 bonus Qantas Points.
American Express Westpac Altitude Black Bundle
Apply by October 15 2019 and spend $4,000 on eligible purchases within 90 days of card approval using the Altitude Black Mastercard to earn 80,000 bonus Qantas Points.
Qantas Premier Platinum Mastercard
Apply by October 31 2019 and earn 20,000 bonus Qantas Points per month for the first six months, when spending at least $1,500 in each of those months
ANZ Frequent Flyer Black
Earn 100,000 bonus Qantas Points and $200 back to your new card, when you apply and spend $4,000 on eligible purchases in the first three months from approval.
Virgin frequent flyer points
St George Amplify Signature Visa with Amplify Points
Apply online for the Amplify Signature with Amplify Points card by October 2 2019 and spend $12,000 on eligible purchases each year for the first two years, to unlock up to 200,000 bonus Amplify Points.
Virgin Australia Velocity High Flyer Card
Apply before August 31 2019 and earn 30,000 bonus Velocity points in each of the first three months, when at least $3,000 is spent on the card in that month – up to 90,000 bonus Velocity points in total at the end of month three
Citi Prestige Visa Infinite Credit Card + Linked Diners Club Card
Apply by January 31 2020 and spend $5,000 in the first 90 days from approval on the Citi Prestige Credit Card can receive 150,000 bonus points in the Citibank Rewards Program, equal to 75,000 Velocity points when converted at a 2:1 rate.
These are but a selection of cards you can score bonuses with new applications. There are a lot more to choose from many other banks and financial institutions.  Head to executive traveller for more suggestions.  All these bonuses are only for new customers and they define new as customers who haven't been with that bank for 12-18 months. You can keep recycling the banks over the years and keep getting bonuses. Of course, there are different annual fees involved depending on how much points you get and what other bells and whistles comes with it. Horses for courses. If you work out the sums, you are still ahead when you add the sums up. For example, paying $200 per year to get 90,000 points is definitely worthwhile.
You have the lots of points but we all know that it's not easy to book seats with your points. You usually have to book using your points pretty much 12 months ahead. You can't book earlier because booking is not available yet. If you wait anymore than a week after you can book, it's all gone. Further, if you try to book the return leg a few weeks later, you can't do that either because it is more than 12 months ahead. It sucks doesn't it? So, how does anyone book using points? Here are some tips:
Tip 1 – you don't have to fly out of Sydney
Try booking from an Asian capital, typically, Singapore, Kuala Lumpur Bangkok or Hong Kong. Seats out of Sydney or Melbourne are often limited but there are more seats available from other capitals. You just have to somehow get to those cities from here. It's just 7-8 hours from here and who cares what how you get there.
Tip 2 – book the flights separately
You can never get your return flights on the dates that you want, you just have to book one way as soon as it becomes available and book the return leg later. It may cost you a few more points but not that much more than booking a return package. You can use a different frequent flyer program to get sears on the return leg home (well, back to an Asian capital).
Tip 3 – use your points over peak season
We all know how expensive flying during the Christmas/New Year period is if you pay. It's often 2-2.5 times the usual low season fares. Funny though, the points required for the peak season isn't that much more than those for low seasons. So, it is more effective to use your points for high season rather than use cash but seats are tight unless you fly out of an Asian capital.
Tip 4 – no one wants to fly Christmas eve or Christmas day
Everyone wants to fly on Boxing day don't they? Well, tickets are generally cheaper if you fly either Christmas eve or Christmas day. Who says Christmas is on the 25th December? I flew from Kuala Lumpur to Istanbul on Qatar Airlines at 2am, 25th December last year for $1200 return (economy,f course). It was $1800 if I flew the next day!
Tip 5 – free lounge access as well?
If you pay a little bit more in annual fees, you might score complimentary lounge access with some of the premium credit cards. If you are not flying business class, lounge access at transit points can be quite refreshing. A quick shower, a change of clothes, a real cappuccino and a decent salad makes the 23 hour flight to London all that more bearable. Having a quite lounge to relax in transit with the kids really makes the whole journey memorable.
Tip 6 – know your alliances
All the airlines are in some alliance with other airlines and you can book seats with other airlines in the same alliance using your Qantas, Virgin points or other points. Look up which alliance your airline is with and that increases your options to get from point A to point B. Qantas also have the option of searching using Classic Rewards which is way down the bottom of the page after scrolling down the list of flight options.
Here is an example of my flights to London this Christmas. They were booked only 5 months ago! How good is that?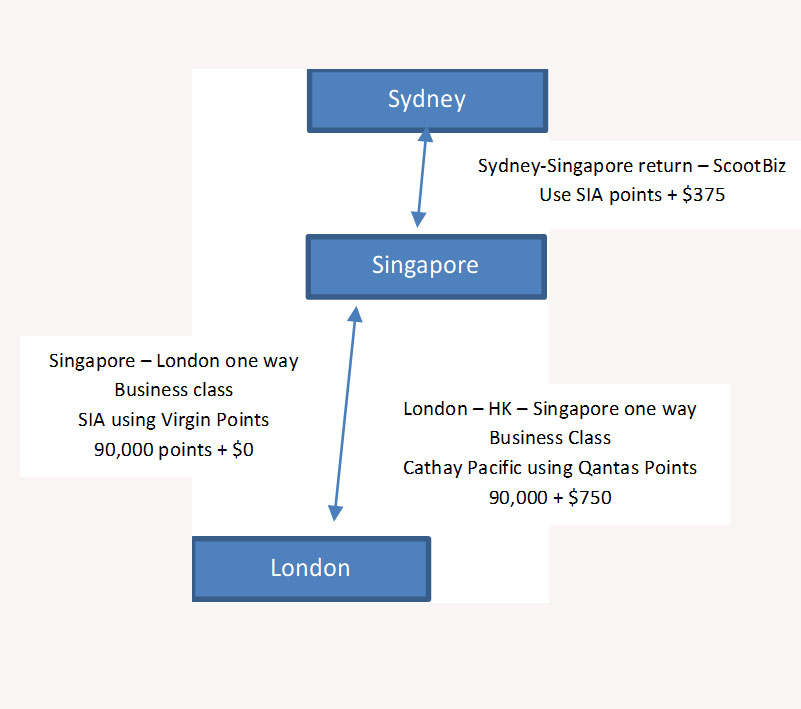 If you have other tips you would like share with others, drop me an email. In the meantime, bon voyage.