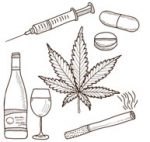 We all have patients troubled by alcohol or drugs. We are either approached by the patient or more often than not, family members who are lost in the maze of services out there. Despite being a GP in the area for more than 25 years, I still don't know what is out there, who needs what, let alone who or where to get help for these patients. We now have a new service is aimed at supporting GPs in providing care to patients with alcohol and other drug issues.
A drug health nurse consultant will provide this telephone service and can advise on clinical issues and referral pathways to relevant services. She is happy to take calls regarding specific patients at the time of the consultation, as well as calls about general issues in drug and alcohol medicine outside of consultations. The nurse can also link you to a member of the medical team at SWS Drug Health Services.
To access the service:
GP Support Telephone Helpline Phone:  0455 079 436
 There's more…
Post discharge support
Patients discharged from inpatient services often need ongoing support especially from their GPs. The service is happy to support us in providing this care. This post discharge support can either be in person, via the telephone or via case conference.
Treatment for opioid dependency
Patients on buprenorphine treatment appreciate being able to see a GP who can care for their general practice needs and also review their buprenorphine dosing. Involvement in the process of change seen with opioid pharmacotherapy can be a highly rewarding clinical experience for GPs as patients often engage enthusiastically in care plans for co-existent conditions such as hypertension, diabetes, hepatitis C. Prescribing buprenorphine is straight forward and we can support GPs with direct advice about this.
Many patients cease problematic use of opioids when on a stable dose of buprenorphine. In NSW, any individual GP can provide care for up to 5 patients on buprenorphine at any one time, providing the patients have already been stabilised on this medication by an accredited prescriber first.
The service can offer
transitionary shared care plans supported via onsite visits by the drug health team to the practices with the patient, and joint case conferences.
we can work with you to provide opportunities to optimise MBS billing under case conference and care plan item numbers for the practice,
Ongoing advice and support from Drug Health medical and nursing team via direct phone access.
If you are interested in this service please contact Dr Jenny James at:
Jennifer.James3@health.nsw.gov.au
GP VMO General Practice Drug & Alcohol Advice & Support Service
Mondays and Tuesdays phone: 0467 717 832