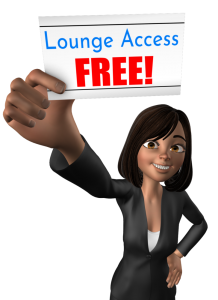 March 2018, Dr Chee L Khoo
If you earn more than $76,000 per annum and you would like lounge access when flying economy overseas on the cheap, read on. I don't know about you but I can only afford economy class when flying overseas. I can't really justify spending 4 times the economy fare to be pampered. Really, I just need lounge access. I am happy to watch movies the rest of the trip.
A recent article in the SMH reminded me about sharing this tip with you. I was a little disappointed that the article in the SMH did not reference an easier and cheaper option. These were the options cited are via Airline Clubs, Lounge Passes or Credit Card access. 
One tip the author of the article omitted is the Bankwest More World Mastercard. In addition to the usual reward points (2.5 points per dollar spent on eligible purchases), there are no foreign transaction fee on online or overseas purchases. It accords you with unlimited airport lounges (primarily Plaza Premium lounges – search location at loungkey.com) for you and your guests. Once again, because there are no Plaza Premium lounges in Sydney and Melbourne, you get $36 to spend in selected outlets at the airport but unlike the Priority Pass members, you don't have to pay to get $36!
Of course, it has the usual credit card insurance, extended warranty etc that comes with premium credit cards. And it only costs $270 per annum. On my recent trip to Taipei and Kuala Lumpur, I had $36 at Sydney airport, lounge access at Taipei airport en route to KL, lounge access at KL en route to Taipei and lounge access at Taipei on the way home to Sydney for me, my wife and my daughter. I have easily recouped my annual fee. By the way, supplementary cards are also free.
(If you think this article will be useful to you and your family, do drop me an email at practice@khoo.com.au)