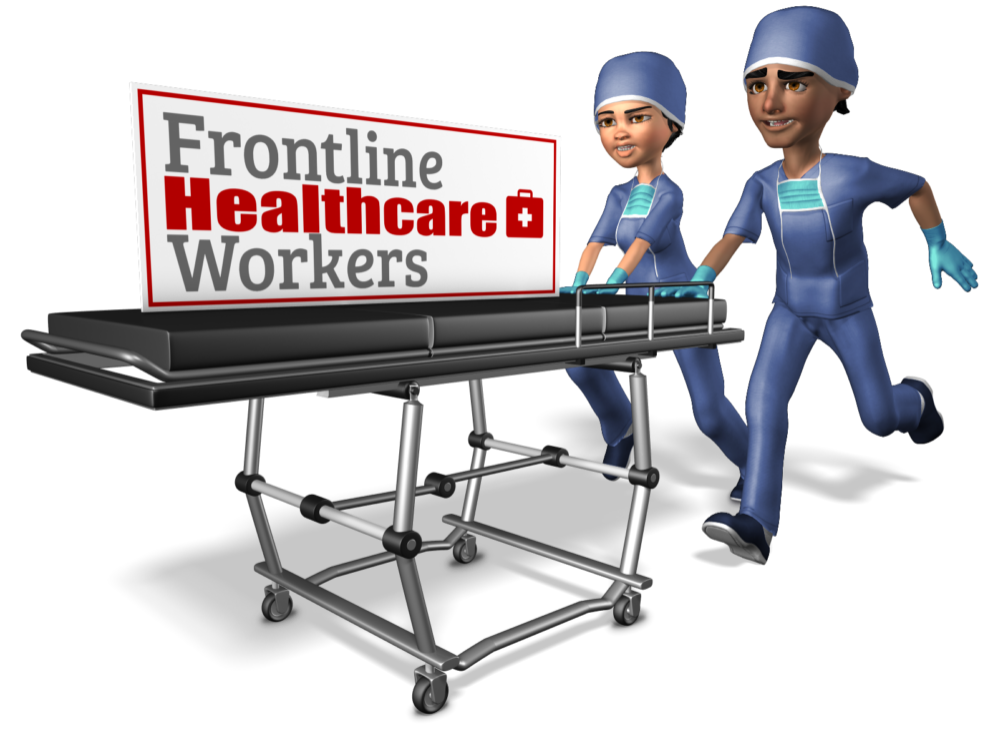 We all have that warm fussy feeling inside every time they talk about the frontline "heroes". You say "that's me". We all contribute towards the fight against the Covid-19 pandemic. The UK recently acknowledge the hardworking frontline health care workers (HCWs) with the "clap hands for frontline workers" campaign to acknowledge the dangerous work that we do. That's what we sign up for – to save human lives. But is the special appreciation and recognition matched by actions? Why are we hurled to the frontline without adequate protection? As I have said in previous posts, you don't send the SWAT team to a siege naked without their bullet proof vest and head gear, do you? Why are we sent to the frontline without PPE?
Consequences of not protecting frontline workers
It's not just HCW's lives we are talking about. When HCWs don't feel safe and protected, many will step back from the frontline putting more pressure on those that are at the frontline. When HCWs become infected, they also come off the frontline (together with a large number of other colleagues). Sadly, if one of us died on the job, there are fewer at the frontline. From primary to tertiary care, we all play key roles in this fight and we cannot afford to lose anyone.
Of course, we also must consider the safety of our staff, their families and our families whom we may infect when we are not adequately protected. It's not just immediate family but also the extended family including older relatives (older parents, older grandparents etc).
Further, inadequately equipped and unprotected HCWs increases cross infections between the patients that we look after. This add further to our workload.
HCWs' mortality
More than 3300 HCWs in China have been infected as of early March and, according to Chinese media, by the end of February at least 22 had died. In Italy, 20% of responding health-care workers were infected, and some have died. Healthcare workers describe physical and mental exhaustion, the torment of difficult triage decisions, and the pain of losing patients and colleagues, all in addition to the infection risk. We previously report that Robert Stella, a GP and the head of the Italian medical association died of Covid-19 in early March when he continued to consult despite running out of PPEs. There is suggestion that repeated exposure to Covid-19 increases the severity of the disease when we become infected.
But HCWs, unlike ventilators or wards, cannot be urgently manufactured or run at 100% occupancy for long periods. In the global response, the safety of health-care workers must be ensured. Adequate provision of PPE is just the first step; other practical measures must be considered, including cancelling non-essential events to prioritise resources; provision of food, rest, and family support; and psychological support. Presently, health-care workers are every country's most valuable resource.
WHO Declaration
As a bare minimum, in response to the fast developing Covid-19 pandemic, the World Health Organisation (WHO) recently issued a document titled " RIGHTS, ROLES AND RESPONSIBILITIES OF HEALTH WORKERS, INCLUDING KEY CONSIDERATIONS FOR OCCUPATIONAL SAFETY AND HEALTH". Amongst many things, it details out the responsibilities of employers and managers in health facilities (which includes our government):
assume overall responsibility to ensure that all necessary preventive and protective measures are taken to minimise occupational safety and health risks1;
provide adequate IPC and PPE supplies (masks, gloves, goggles, gowns, hand sanitizer, soap and water, cleaning supplies) in sufficient quantity to healthcare or other staff caring for suspected or confirmed
Dr Greg Kelly, a paediatric intensive care specialist, has written an open letter to the Prime Minister requesting that our safety and wellbeing be made a top priority. This letter is open to all health care workers, health system workers and emergency workers. Sharing this letter with 10 colleagues is an incredibly powerful step you can take right now to keep us all safe. Join me in signing this letter now.
Please don't be an unnecessary hero in this war against Covid-19. You don't want to be a Covid-19 mortality. You also have a responsibility to your staff and your family.