14th September 2019. Dr Chee L Khoo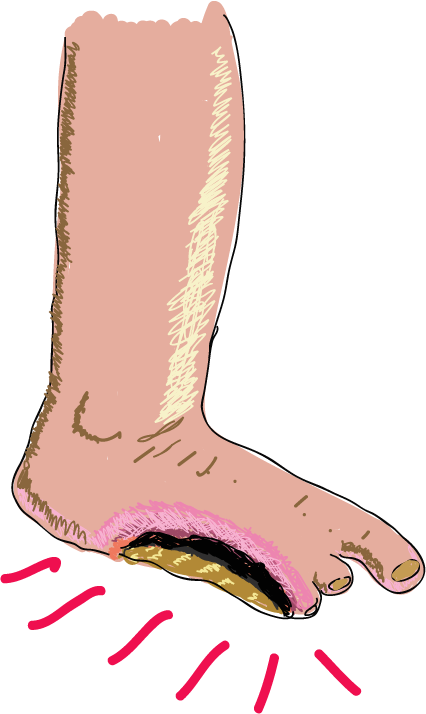 We all have patients similar to this presenting to the practice not that infrequently. This is a real case that I came across just recently. Joanne was referred to the practice by a friend of a friend. She had just been discharged from the local hospital after three weeks following amputation of the lateral two toes of her right foot. The infection spread "pretty quickly". It was just red one day and black the next day. She was lucky to have the rest of the right foot still with her. Here she is, presenting with a discharge summary of her recent admission. Where does one start?
Joanne was first diagnosed with type 2 diabetes approximately 20 years ago. Insulin was started by her endocrinologist 10 years ago. She saw her GP regularly and bloods were organised every three months. Everything was "pretty good" was the usual comment and she had thought that her diabetes was pretty well controlled until this hospitalisation. She used to see the endocrinologist annually but can't quite remember when she last seen him, though. Definitely more than 12 months. Her GP says her diabetes was "all good" anyway. Thus, there wasn't a need to see the endocrinologist, she thought. There were some initial insulin titration over the phone when she was first initiated on insulin. She has been adjusting her own doses since then. She does her glucose monitoring haphazardly but nobody has ever asked to look at her diary. So, it was pointless to keep a diary of her readings. Her regular GP just renewed her usual medications including her insulin.
On discharge, Joanne was on 60 units of a basal insulin before bed and 4-6 units of a prandial insuiin with each meal. The insulin regimen was not changed during the recent admission eventhough her glucose readings were rather erractic while in hospital. Her HbA1c readings when checked in hospital was 11.4%. Her fasting BSL were usually 8-9 mmol/L. She rarely ever check her readings before bed nor after meals. Not that she knew what they all meant if she were to check during those times.
As this was her first consultation, we allowed for a full hour as there are usually a lot of ground to cover. The HbA1c of 11.4% in hospital was not an isolated reading. When we requested for past pathology results from her pathology provider, her HbA1c has been consistently above 10-11% over the last 4 years. She was always assured that her results were "all good".
On closer questioning, she has never had a urine test in the last 20 years. The urine microalbumin performed at her recent admission revealed a urine albumin creatinine ratio of 50.1. Naturally, she wasn't on an ACE inhibitor nor an ARB. By the way, she was not on a statin either as her cholesterol was always "good". No one has looked into her eyes either.
Oh, what happened to her toes anyway? Well, it started about 5 months ago when she developed an ulcer on the lateral aspect of the right little toe. The local podiatrist have been trimming and dressing the ulcer every 4 weeks. She volunteered that she have noticed some reduction in sensation on the lateral aspect of the right foot for months. "I was told I had neuropathy". Yet no one referred her to the high risk foot service locally. 2 days prior to her admission, she had noticed some redness around the area of the previous ulcer on the little toe. She presented to her GP for some antibiotics but the redness rapidly spread and by the next day, the whole foot was red and the little toe became purple black. She duly presented to emergency department. The rest was history as they said. The ankle brachial index (ABI) while in hospital was 1.2 on the right and 1.1 on the left, both with a biphasic wave.
So, here she is. She needed a referral to an endocrinologist (that's what was requested in the discharge summary). Her next appointment at the diabetes clinic is in three months. An appointment with a private endocrinologist will probably take that long. We can't wait that long to review her overall management. Where does one start?
This is not an unusual presentation most of us  see in our practice. This case raises many questions as well demand a lot of work over the next few months We will discussing the management of this case at our Annual DOMTRU GP Diabetes Injectable Workshop on November 10th at Liverpool Mercure Hotel together with many other straight forward as well equally as other complex cases. Come join me and many of your colleagues. The rest of the consultation uncovered many other surprises. Click here for details and registration.