Jan 2018 – Dr Chee L Khoo: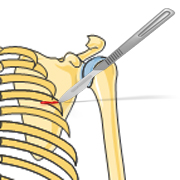 Subacromial decompression was first introduced in 1972 as a last resort for subacromial pathology but there is no high level evidence on its efficacy. Nonetheless, it is now one of the most common surgical procedures done in orthopaedics. Does it actually work?
In a recent multi-centre placebo-controlled trial, 313 patients with sub-acromial pain but intact rotator cuff tendons were randomised to either decompression surgery, arthroscopy only surgery or non-operative management program. At 6 months, both surgical groups were similar with better pain and function outcomes than the non-operative group but was NOT clinically significant. At the 12 month mark, the differences were even less. The differences between the surgical and non-surgical group might be attributable to placebo +/- the post operative rest and associated physiotherapy.
We see these patients in general practice. We are as frustrated as our patients who continue to have pain and limitation in shoulder function after months of physical treatment. it is common for patients to ask for the next option available and we naturally, reach out for the referral pad and refer them off for surgery. In this trial, surgery did not appear to offer any clinically important benefit over conservative treatment of physiotherapy at 6 months and beyond.
Why are we still advocating surgery?
Access abstract here
Reference:
David J Beard, Jonathan L Rees, Jonathan A Cook et al. Arthroscopic subacromial decompression for subacromial shoulder pain (CSAW): a multicentre, pragmatic, parallel group, placebo-controlled, three-group, randomised surgical trial. Lancet. First published online November 20, 2017.